Hello Dear Community,
I have the Unitree A1 robot. I successfully build the unitree_legged_sdk (verison 3.2) but when I run the examples, ./example_walk or ./example_position there is no movement in the robot. I've connected to both pc's on the robot with ssh and tried it from both of them. also connect HDMI and keyboard to run it but the result is the same.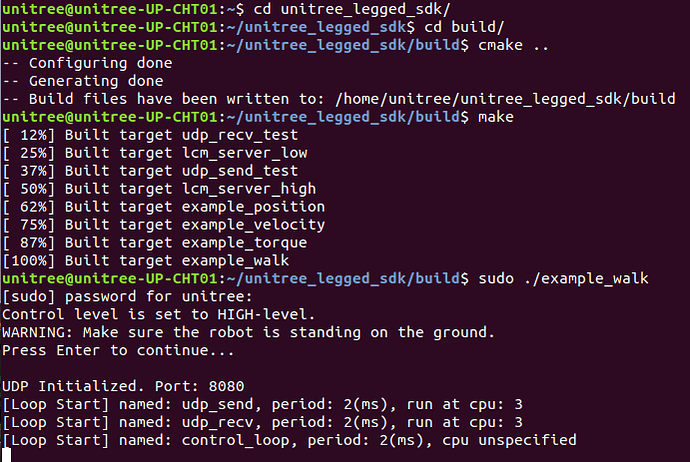 Main pc is running with ubuntu 16.04.6 LTS and kernel is 4.4.86-rt99
Jetson Nano is running with ubuntu 18.04 and kernel is 4.9.140-tegra
My aim is to access the footForce data. Since unitree_legged_sdk is not working properly when I try to print it out, it is printing zeros.
I've also tried the ROS packages. I used unitree_legged_real3.2.1 with unitree_legged_sdk3.2 from the github repo but robot didn't move and sensor data was all zeros.
If someone can help me with how to work unitree_legged_sdk, for example, make the robot walk with ./example_walk, or how to debug what the problem is I would deeply appreciate it.
Thank you