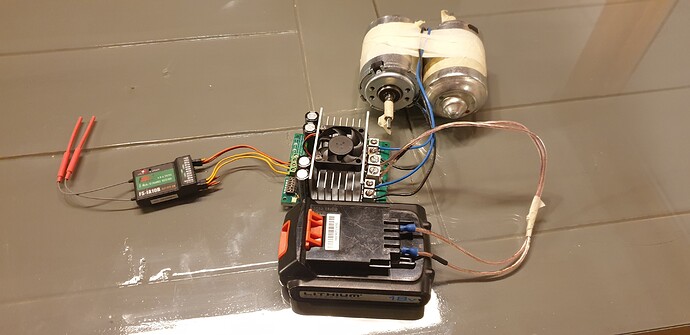 Hi.
I have a problem with my sabertooth 2x60amp. I have 4wd rc-mower project and finally i managrd to test drive my mower drivemotors and sabertoohts functions.
System is 24v and 4 wheel chair motors and fly sky transmitter and receiver.
Fist test worked fine (about 10 meters testdrive) second time it dit not work so vell. Forward i runs somehow but reversing was strugling.
I made test with smaller motors and find out that other directions motors run well but opposide direction there comes malfunctions. Approximately half speed its starts constantly change the rotation direction. And i dit try to speed up a bit or full accelerate it will rotate opposide direcrtion what was direction at stat point but not full speed ( about 2/3 of full speed)
So what could be happened. How can i fix the problem. My sabertooth is about 2months old and just week a go had first test drive.
I have other mower where i have 2 motors and sabertooth 2x32amp and it works fine