Dear Support, @Sohail
Our goals is to send commands (either with ROS or unitree_legged_sdk) to the robot Unitree A1 via SSH from a VM.
We have experienced some difficulties and would appreciate your help on this matter. Could you give us a detailed instruction on how to successfully control the robot via PC? And which board do we connect to?
I tried everything on docs.quadruped.de and also had a look on forums but couldn't solve the issue. I'm also not sure if we ever received the a1_installation script (in case this is necessary).
Additionally, what would be the best way to access the video stream and use it via python?
Here is what we have done so far:
Retrieved IP address from Raspberry Pi and Nvidia board
a. Pi (rear end of the robot): 192.168.123.161
b. Nvidia: (front): 192.168.123.209
Connected to WIFI
SSH'd into Pi
a Can't control robot, cmake doesn't build the unitree_legged_sdk correctly. There is also no catkin_ws folder nor ROS installed
SSH'd into Nvidia board
a. This one has catkin_ws and ROS is installed on it.
b.However high_level_mode.launch is not recognized. It says it's not a launch file in qre_ros. I'm stuck here.
c.I tried executing the example files in unitree_legged_sdk but the following error occurs: Error: Bind client ip&port failed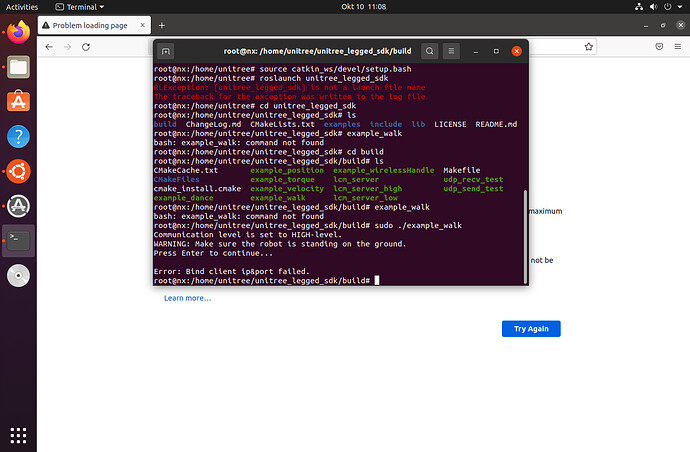 Thank you and best regards
Tenzin